Chef Christopher Caul
June 24th at 12:30pm
Make your reservations today for this exciting new culinary series from Distant Cellars.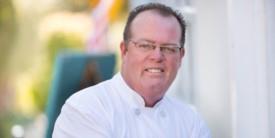 Meet Chef Christopher Caul, share his table and his worldly culinary experiences. Chef Caul will prepare a delicious luncheon inspired by his love of the unusual gastronomic experiences.
"Chef Christopher Cauls Table"

Conversations with a Chef, will inspire you to try different recipes or to add a new slant to your favorite recipes. Ask questions, share opinions and understand why pairing wines with foods, works so well. Reservations are a must as space is very limited. The "Chef Le Mistral", Chef Christopher Caul's menu is posted below.
Invite a friend and join us for this delicious afternoon of inspired foods wines and conversations.
Please make sure to update your email addresses with us, so that you won't miss out on this exciting new summer series.
Reservations a must $40 per person / Club Members $35
Menu Features
Tequila & Lime Cured Salmon ,Crispy potato cake, Avocado crème fraiche
BBQ Braised Nimam Ranch Boneless Short Ribs, Braised Red Cabbage Roasted corn polenta
Mixed berries with Zabaglione